__________________________

Welcome to
Quinn's Landscapes
_____________
Commercial Landscaping Services - Bonded and Insured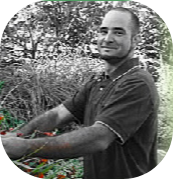 Quinn's California Landscapes has grown with its gardens. We offer garden consultation and coaching for the do it your-selfers.  Landscape architectural blueprints and three dimensional color photo designs from state of the art computer software, are available to those who are in the planning stages.  Organic maintenance of residential and commercial properties, as well as the installation of plants, irrigation systems, rain catchment systems, many types of hardscapes, and irrigation auditing are all services we provide. My expertise with California native plants, drought tolerant gardening, permaculture practices, rain catchment techniques, soil building and composting, sets me apart from the average landscaper.  Using these techniques many sterile suburban plots have been transformed into thriving habitats, supporting many species that maintain the health of their own ecosystems.  These sustainable gardens offer much more than beauty and a place to relax.  The beneficial insects and birds keep the vegetable plots pest free, properly placed trees reduce heating and cooling bills, and the permeable hardscapes and vegetation absorb water while filtering pollutants before they enter our creeks, streams, and bay. By using less fertilizer, water, and no pesticides these Organic gardens cost much less than conventional landscapes, while still providing the "curb appeal" that increases property values for the entire community. Quinn earned a degree in Botany from Sonoma State in 2002 and is a licensed California contractor. Quinn has had a passion for gardening since he was knee high to his mom. His first word was Farfugium. For Landscaping, Landscape Maintenance, Pruning, Irrigation, Yard Work, Construction etc., call  or e-mail Quinn.
Quinn's Landscapes offers Complete Landscaping Service to the Entire North Bay

Great Service
We're adept at executing the innovative, state-of-the-art multi-faceted landscaping jobs that fill our portfolio — regardless of aggressive timelines and budgets.

Knowledgeable
With over 30 years of experience in all aspects of residential and commercial landscaping and development , we strive to offer our clients a wide range of services.

No Job Too Big or Small
That's right! No project is too big or too small. We are full equipped to handle all size jobs. From small home projects to major commercial jobs.

Top Quality Workmanship
High quality work at reasonable prices, has allowed our business to thrive in the Bay Area. We strive to develop lasting relationships with our customers.
Pictures From Our Gallery
★★★★★
"Quinn's
crew showed up on time each day and left the work area super clean. I have to emphasize this because so many companies just don't care but the three gentlemen that came out every day for six days worked super hard and made our front yard look beautiful
"
~ 
Robert & Lisa, Kentfield Ca
★★★★★
"
Quinn's Landscapes has turned my dust bowl backyard into a beautifully landscaped residence, that anyone would be proud to say was theirs. Quinn was great to work with and he even helped enhance the original design.
"
~
Leslie W. , Mill Valley Ca
★★★★★
"
Every so often when dealing with individuals who provide home services, you come across someone truly special. Such was the case with Quinn of Quinn's Landscapes
"
~ Jason S.
, Napa Ca